Delta Fencing summer camps 2013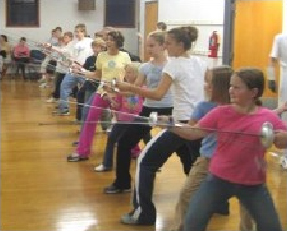 Use the summer to learn fencing, or to improve your fencing skill. We provide all the fencing equipment! Come in T-shirt, warmups, and sneakers, and bring a waterbottle.

The camps are limited to minimum of 6, and up to 16 students. Two coaches work with students at every session. Every Delta coach has current background check on file. 6:1 student-to-coach ratio. Our coaches are active athletes with national ratings; all have professional fencing coaching certifications by the US Fencing Coaches Association.

Free personalized waterbottle to every student who signs up before the end of May!
Beginner's camps
These are 5-day half-day camps, in which we'll teach the complete Beginner's Fencing course. Get in shape, learn the basics of the oldest and fastest of the Olympic sports, and awake your inner knight. Every day includes fencing using electronic scoring equipment.
Riverbank: Community Gymnasium

All ages: July 8-12, 2 PM - 6 PM



Tracy: Lolly Hansen Senior Center

Juniors (ages 13-up): July 1 - 5, 9 AM - 1 PM (no camp on July 4)
Youth (ages 6-12): July 15 - 19, 9 AM - 1 PM
Advanced / competitive camps
These are 5-day half-day camps, in which we'll train advanced footwork and bladework technique, tactical thinking, and advanced observation and prioritizing. Stay in shape, and bring your fencing thinking to teh next level for the upcoming competitive season. Guest Olympic coach on Day 5!
Stockton: Arnold Rue Community Center

Youth (ages 7 - 12): July 22 - 26, 9 AM - 1 PM
Junior (ages 13 - up) & adults: 22 - 26, 2 PM - 6 PM