Our Fencing Classes and Training Programs
Our fencing trainings & classes include the warm-ups and stretching exercises, games for agility, speed and coordination, footwork, basic partner drills, and bouting.
Beginner's class - introduction to Olympic Fencing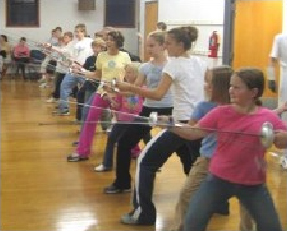 The Beginner's Fencing program is designed for those who have never tried fencing before. In approximately 16 classes you will learn how to move like modern fencers do, how to handle the epee, how to score a touch, and how to use the epee to protect yourself from opponents attack.

With youth fencers, the classes focus on agility, coordination, focus, learning to win graciously and lose (which sometimes happen to most of us) with dignity. Youth fencers quickly adopt the full range of basic skills - direct and feint attacks, lunge, balestra, and so-much-fun-to-do running attack, a.k.a. fleche.

Junior and Adult beginners focus on getting in shape, improving eye-hand and hand-foot coordination, and improving overall strength, while learning fencing basics. Most beginners see a tremendous improvement in muscular and cardio-vascular systems function in first 3 - 6 months. If you were overweight, you may see significant improvement in your Body Mass Index.

All fencers at Delta Fencing Center enjoy unlimited use of club's equipment - fencing weapons, protective gear, and electronic scoring equipment - in every class.

Every beginner receives a free fencing glove with their name printed on the cuff, as our "welcome to the sport".
Intermediate Fencing - Basic Fencing Skills Training
Intermediate-level trainings are designed for those who have completed the introductory 8-weeks program. This 16-weeks course focuses on integrating basic skills and using them in fencing bouts. You should expect to fence at every training session. At this point of your fencing development you may consider purchasing some of your own fencing gear, and we will gladly help you to make appropriate selection; you are still welcome, however, to use club's equipment.

Intermediate-level fencers receive a complimentary individual lesson (one-on-one with the coach) once a month. At this level the lessons are meant to give you personal attention, correcting little things that are difficult to address in group class, and they focus on bladework skills. Coach in return gets a chance to learn about your habits, likes, and difficulties, and can tailor the individual lessons specifically for you.
Recreational Fencing
Recreational program is designed for advanced-level fencers who have no time available for competitive training, or have less regular schedule. We welcome recreational members to all trainings and to selected classes in their age group, either once or twice a week, under the same conditions that beginner- and intermediate-level members enjoy. Recreational fencers may use club's weapons and protective equipment at every training. Recreational members may rent club's fencing equipment for competitions or athletic events for a fee, with Head Coach's written approval.
Competitive Fencing Training
Competitive training program is designed for those with performance and competitive fencing in mind. The trainings further the development of technical skills, and the observation and tactical approach to fencing actions, to fencing bout, and to competition as a whole.

Competitive athletes train two or three times a week and take at least one individual lesson a week. They may also attend any technical or guest-coach group training session, free of charge. Competetive members have the privilege to wear a club emblem on their fencing jacket, and the privilege to represent the Delta Fencing Center in USFA-sanctioned competitions. At competitions, competitive fencers are coached by their Delta coach. Competitive fencers are expected to stay and watch the tournament through the finals, regardless of the stage they got eliminated.

Competitive members own (and are expected to bring to all trainings and competitions) complete fencing uniform, at least two weapons and two body cords, and at least the basic test-and-repair kit. Competitive members are required to maintain training-, lesson-, and competition-log and notebook. Competitive members must maintain their USFA membership, and declare Delta Fencing Center as their primary fencing club for the current competitive season.
Coaching
When you are a member of the Delta Fencing Center, your coaches are available to you for guidance and advice at trainings and workshops, through e-mail and text-messages, during the individual lessons, and, when you choose tournament coaching, at tournaments. We will do everything in our power to be with you when you compete, but please make sure your coach knows you want the coaching at the particular tournament, and you make arrangements through the Delta head coach as soon as you decide to attend the tournament. The coaching at tournaments typically covers all the Delta fencers attending. One or more coaches may be there, depending on a number of factors, including the number of Delta fencers attending. The coach on duty has the discretion on directing the warmup exercises and bouts, selecting which competitive bouts to follow when several Delta fencers compete simultaneously, and guiding you through the tournament.

Your coach will advise you on how to approach a bout, or how to adjust if the change is necessary. However, it is YOUR fencing, and we will always respect your will and do what we can to support it, even if we would do differently if we were on the strip :) Besides advising you, your coach will have spare equipment, for your use in case anything you brought in good shape has failed, free of charge. You will not be responsible for any repairs on breaks of club equipment as long as the failure occurs during usual fencing-related activities, either during a fencing bout or preparing off the strip.

Athletes are expected to follow coaches instructions, do their personal best, represent their club with pride and dignity, and cheer for and support their team-mates. At the tournaments, your coach needs to know your wearabouts at all times. Do not eat, fence, or engage in other activities against your coaches advice. Please note that Delta coaches will never advise or coach you against another Delta fencer.
Individual Lessons
The individual lessons are are one-on-one sessions with the coach. They focus on all aspects of fencing, from honing bladework skills, developing action sequence, tactical training, video performance review and mental aspects of the game. Coach in return gets a chance to learn about your habits, likes, and difficulties. Your coach tailors private lessons specifically for you, with you.

An individual lesson normally takes 20 minutes. For younger fencers, the lesson is shorter, ranging from 8-15 minutes, depending primarily on their physical endurance and attention span.

Observing an individual lesson: Parents and family members are always welcome to. Since some of the lessons are preparations for competitions, regardless of the level, from youth local, to international, others may observe the lesson only with the approval from both the coach and the athlete. Taking photos or videos of an individual lessons is generally discouraged, and requires coaches approval.

Scheduling a lesson: the individual lessons take place in the time slots marked black on the schedule (the coach wears black protective gear, therefore the black color in schedule). To schedule the lesson, e-mail, call, or talk to us before or after a class.

Coming for a lesson: at the time for your lesson, you should be warmed up, stretched, and completely dressed for fencing (including shoes tied, wearing knee-high socks, protective cup if you are a boy, chest protector (optional for men, mandatory for females and boys under 10), underarm plastron, jacket, body cord, mask, glove). Bring two weapons, spare body cord, and your waterbottle.

Missing a lesson: please note that, when you schedule an individual lesson, your coach reserves that time slot, and his/her time, exclusively for you. If you have a scheduling conflicts that affects your ability to come to the lesson on time, please let your coach know as soon as you can. For individual lessons that are not cancelled 24 hours in advance, you will be charged as if the lesson took place. In addition, those that leave the coach on the strip, waiting for you, may lose the individual lesson privileges, at the coaches discretion.

To get the most out of your lesson, please have a lesson notebook in which you can write down your notes, observations, and the questions for your coach.